AGBA's OnePlatform Partners with HSBC Life to Distribute HSBC Life's HSBC Wealth Select Protection Linked Plan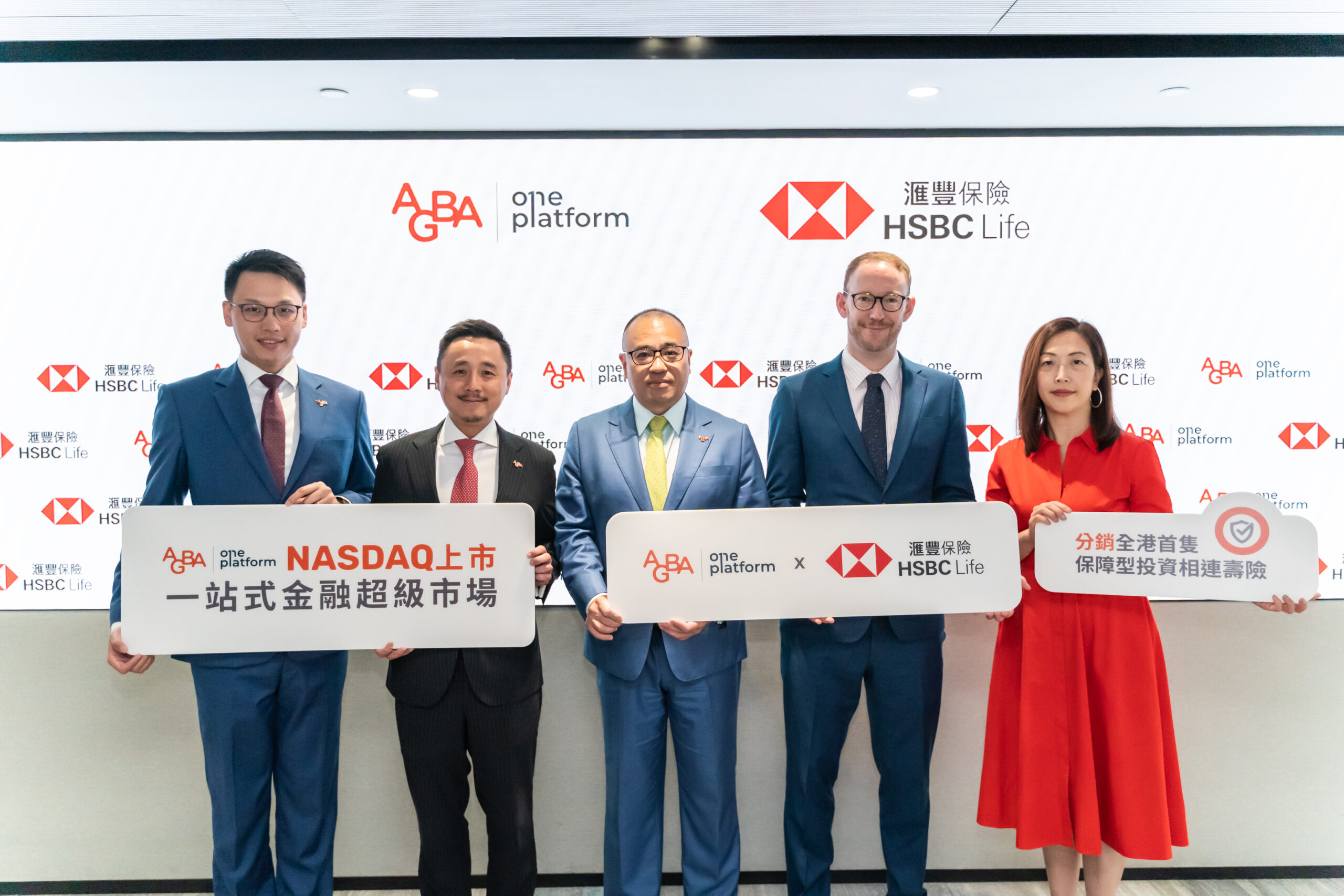 Important Information
HSBC Wealth Select Protection Linked Plan (the "Plan" or the "Policy") is an investment-linked assurance scheme ("ILAS"), which is an insurance policy issued by HSBC Life (International) Limited (Incorporated in Bermuda with limited liability).
The ILAS Policy is designed to be held for a long term period. Early surrender or partial withdrawal of the Policy or policy termination may result in a significant loss of principal, bonuses awarded and/or sustainability of the Policy. Poor performance of underlying funds corresponding to the investment choices may further magnify your investment losses, while fees and charges are still deductible.
The ILAS Policy will no longer provide high life protection when the Age1 of life insured exceeds 65 and the amount of death benefit payable may be significantly reduced.
The investment choice available under this product can have very different features and risk profiles. Some may be of high risk. For example, some investment choices are linked to funds that pay dividends out of capital which may result in an immediate reduction of the funds' net asset value per unit and hence reduce the value of your ILAS Policy.
Risk associated with Risk Matching and De-risking Service – Risk Matching and De-risking Service (the "Service") is an optional service and you are free to opt in (or opt out) the Service at policy inception or at any time after the policy is issued. After opting in the Service, you will only be allowed to invest in one of the designated investment choices available under this Service in accordance with your risk profile. The Service adopts a pre-set de-risking process when you reach Age1 55. You should consider your own personal circumstances (including your risk profile and retirement plan) before opting in for this Service. For details of the Service, you should refer to Investment Choice Brochure. If you are in doubt as to whether the Service is suitable for you, you should seek financial and/or professional advice.
Investment involves risks. Please refer to the offering documents for HSBC Wealth Select Protection Linked Plan for details including the risk factors.
Hong Kong – AGBA Group Holding Limited (NASDAQ: AGBA) ("AGBA Group" or "AGBA"), the leading one-stop financial supermarket in Hong Kong, is delighted to announce a strategic partnership agreement between OnePlatform Wealth Management Limited ("OnePlatform")*, part of the Group's one-stop financial business solution platform, and HSBC Life (International) Limited ("HSBC Life"), the leading insurer in Hong Kong2. HSBC Life has authorized OnePlatform to distribute its first-in-market Protection Linked Plan, namely, HSBC Wealth Select Protection Linked Plan (the "Plan").
The Plan is a whole life policy designed to provide life protection and different investment choices at the policyholder's discretion. The Plan offers 3 levels of sum insured — 150%, 200%, or 250% of the Total Premium Payable3 if the life insured is at Age1 65 or below. As a case in point, if a policyholder selects the 250% option and the life insured dies on or before Age1 65, the death benefit will be the higher of 250% of the Total Premium Payable3 or 105% of the account value. The death benefit provided will be subject to insurance charge4.
The Plan enables policyholders to adjust their sum insured any time after the first policy anniversary5. Policyholders can also switch among investment choice(s) and/or change premium allocation instruction of investment choice(s) at zero cost. The Plan offers Risk Matching and De-Risking Service to facilitate policyholders achieving the goal of de-risking towards retirement.
Both the fees and charges payable to HSBC Life at Plan level are simple and transparent. There are two types of on-going fees and charges – policy management charge at 1.5% of the account value per annum and insurance charge which is subject to the age and gender of the life insured, account value and sum insured. An early encashment charge may be applied if any partial withdrawals have been made, or the policy has lapsed or has been surrendered during the first nine policy years.
Wing-Fai Ng, Group President of AGBA Group, said, "The Group is delighted to partner with HSBC Life to distribute HSBC Wealth Select Protection Linked Plan on our OnePlatform. This strategic collaboration is a testament to our commitment to providing our customers with the best quality options available in the market. Not only does this partnership further broaden our product distribution platform, but it also strengthens our position as the leading wealth and health platform in the Greater Bay Area. We are confident that our customers will benefit greatly from the quality products of HSBC Life, and we are excited to collaborate with HSBC Life to meet our customers' protection needs. This partnership is a significant milestone for AGBA Group, and we look forward to further strengthening our relationship with HSBC Life in the coming years."
Edward Moncreiffe, Chief Executive Officer, HSBC Life, Hong Kong and Macau said: "HSBC Life is always committed to improving on how we reach out to our customers and through our collaboration with independent financial advisors, we can provide them with even more ways to meet their protection needs using our top-notch products and services. We are pleased to collaborate with AGBA as we believe customers will benefit from their advisory services that not only complement but also bring out the best in our flagship product HSBC Wealth Select Protection Linked Plan. The Plan enables policyholders to diversify risks by giving them access to a broad range of investment choices and also to adapt to their ever evolving needs and circumstances with its protection features and flexibility to switch investment choices freely. We believe this will be a solution of choice, especially under current evolving market conditions, to meet the public's life protection, savings and retirement needs."
1Age means on policy effective date or policy anniversary, the Age of the life insured or policyholder where applicable at the life insured's or policyholder's next birthday. The Age will remain the same during the corresponding policy year until next policy anniversary.
2HSBC Life is the leading insurer in Hong Kong by new premiums. Source: provisional statistics of Hong Kong insurance industry in the first quarter of 2023, Insurance Authority.
3Total Premium Payable means for the purpose of computing the death benefit and insurance charge, the total amount of premiums committed to be paid by policyholders for the Plan within the premium payment period selected by policyholder at policy inception, excluding top-up premiums.
4Your monthly insurance charge might also increase/decrease due to a higher/lower level of Sum Insured respectively and could impact the value of the Policy as a result.
5Increases in the level of sum insured might be subject to the underwriting approval of HSBC Life. Underwriting approval will not be required for a decrease in the level of sum insured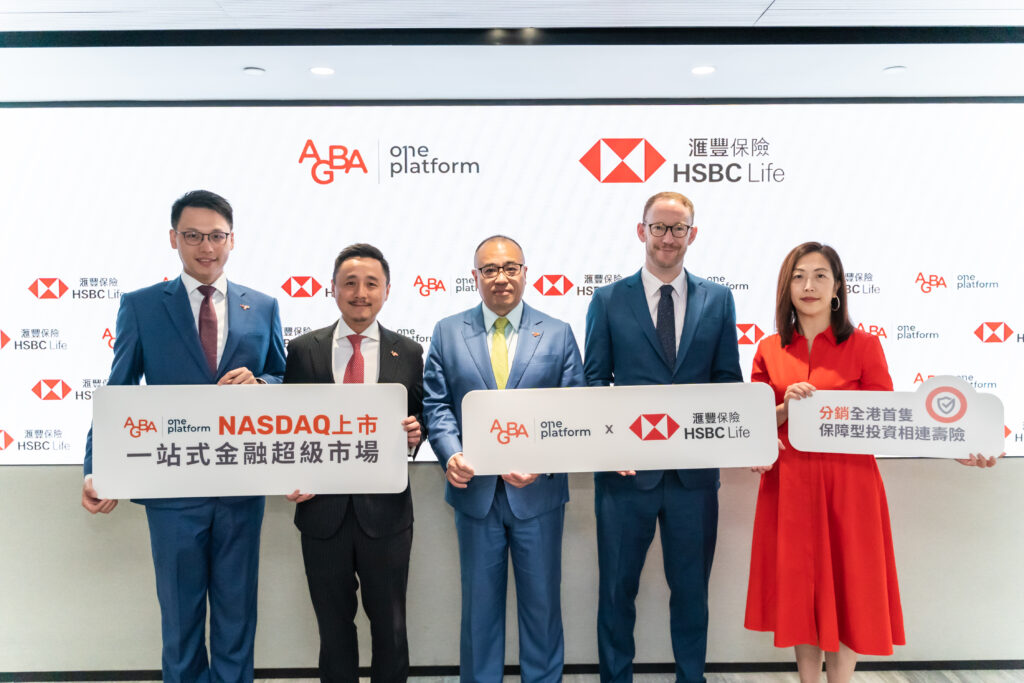 Photo caption: (From left to right) A Group photo was taken to mark the launch of the partnership between ABGA's OnePlatform and HSBC Life's key management: Thomas Wu, Chief of Business Platform of OnePlatform; Henry Shin, Chief Business Officer of OnePlatform; Wing Fai Ng, Group President of AGBA; Edward Moncreiffe, Chief Executive Officer of HSBC Life; and Daisy Tsang, Chief Distribution and Customer Officer of HSBC Life.
– ENDS –
About AGBA Group:
Established in 1993, AGBA Group Holding Limited (NASDAQ: "AGBA") is a leading one-stop financial supermarket based in Hong Kong offering the broadest set of financial services and healthcare products in the Guangdong-Hong Kong-Macao Greater Bay Area (GBA) through a tech-led ecosystem, enabling clients to unlock the choices that best suit their needs. Trusted by over 400,000 individual and corporate customers, the Group is organized into four market-leading businesses: Platform Business, Distribution Business, Healthcare Business, and Fintech Business.
For more information about AGBA, please visit www.agba.com.
* Insurance and MPF schemes brokerage services are provided by OnePlatform Wealth Management Limited (respectively an Insurance Broker Company with HKIA Licence No. FB1452 and Principal Intermediary with MPF Registration No. IC000579)
For inquiries, please contact:

Media
AGBA Social Media
agbagroup
LinkedIn | Twitter | Instagram | Facebook | YouTube
Customer Service
Telephone: 3601 8000 Email: [email protected]
This press release is issued by AGBA Group Holding Limited ( "AGBA Group"). AGBA Group accepts full responsibility for the accuracy of the information contained in this press release. If investors have any queries regarding this press release, please contact AGBA Group at https://www.agba.com/contact/.
YOU ARE LEAVING AGBA.COM
Hyperlinks to other internet sites or resources are accessed and used at your own risk.
The inclusion of hyperlinks to other sites on the Website does not imply any investigation, verification or endorsement by AGBA of the material on such sites. AGBA expressly disclaims any responsibility for the accuracy, contents, availability or omission of information or other websites hyperlink to or found on sites that link to or from the Website.