NASDAQ-listed wealth and health firm, AGBA Group Holding Limited, "AGBA" announces Full Business Integration of over 1,500 Financial Advisors
Key milestone for AGBA's business and expansion for the Greater Bay Area
Full integration will enable AGBA to aggressively grow within the Greater Bay Area
(Hong Kong) NASDAQ-listed, AGBA Group Holding Limited ("AGBA"), the leading
"Financial Supermarket", a Hong Kong-headquartered firm that offers a full-service
platform to banks, financial institutions, brokers, and individual independent financial
advisors to advise and serve its retail clients, today is excited to announce the
successful integration of all Financial Advisors of over 1,500 people strong from the
legacy group. The full integration is expected to complete in first quarter of 2023.
AGBA is a wealth and health group that was listed on NASDAQ late last year. The Group
is now one of the largest integrated wealth and health platforms in the Greater Bay
Area listed on NASDAQ. AGBA's technology-enabled platform offers a wide range of
financial products, covering life insurance, pensions, property-casualty insurance,
stock brokerage, mutual funds, money lending, and real estate agency. AGBA also
manages an ensemble of financial technology investments including Tandem Fintech
Limited, a health and wealth management platform with a broad spectrum of services
and value-added information in health, insurance, investments, and social sharing.
AGBA's Financial Advisors has delivered stable, albeit reduced, performance results
against adversities in the past four years between 2019 and 2022, with the following
sales value:-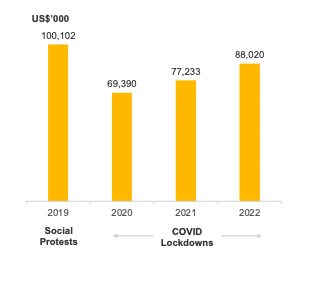 "We are thrilled to welcome all of our Financial Advisors into the AGBA family" said Mr.
Wing-Fai Ng, AGBA's Chairman.

"Our team of over 1,500 financial advisors is stronger than ever. They not only
represent the largest team in the industry but are also one of the most productive
sales force in Hong Kong. With the unprecedented opportunities from China's
reopening, we are supremely confident to deliver and to achieve our milestone of Year
2023: "Back to Glory." "

"AGBA's management expects AGBA will continue its growth momentum and
maintain consistent development as set out in the "Business Highlights and
Management Discussion".
# # #
Safe Harbor Statement
This press release contains forward-looking statements as defined by the Private Securities Litigation Reform Act of 1995. Forward-looking statements include statements concerning plans, objectives, goals, strategies, future events or performance, and underlying assumptions and other statements that are other than statements of historical facts. When the Company uses words such as "may," "will," "intend," "should," "believe," "expect," "anticipate," "project," "estimate" or similar expressions that do not relate solely to historical matters, it is making forward-looking statements. Forward-looking statements are not guarantees of future performance and involve risks and uncertainties that may cause the actual results to differ materially from the Company's expectations discussed in the forward-looking statements. These statements are subject to uncertainties and risks including, but not limited to, the following: the Company's goals and strategies; the Company's future business development; product and service demand and acceptance; changes in technology; economic conditions; the outcome of any legal proceedings that may be instituted against us following the consummation of the business combination; expectations regarding our strategies and future financial performance, including its future business plans or objectives, prospective performance and opportunities and competitors, revenues, products, pricing, operating expenses, market trends, liquidity, cash flows and uses of cash, capital expenditures, and our ability to invest in growth initiatives and pursue acquisition opportunities; reputation and brand; the impact of competition and pricing; government regulations; fluctuations in general economic and business conditions in Hong Kong and the international markets the Company plans to serve and assumptions underlying or related to any of the foregoing and other risks contained in reports filed by the Company with the SEC, the length and severity of the recent coronavirus outbreak, including its impacts across our business and operations. For these reasons, among others, investors are cautioned not to place undue reliance upon any forward-looking statements in this press release. Additional factors are discussed in the Company's filings with the SEC, which are available for review at www.sec.gov. The Company undertakes no obligation to publicly revise these forward–looking statements to reflect events or circumstances that arise after the date hereof.
About AGBA Group:
Established in 1993, AGBA Group Holding Limited (NASDAQ: "AGBA") is a leading one-stop financial supermarket based in Hong Kong offering the broadest set of financial services and healthcare products in the Guangdong-Hong Kong-Macao Greater Bay Area (GBA) through a tech-led ecosystem, enabling clients to unlock the choices that best suit their needs. Trusted by over 400,000 individual and corporate customers, the Group is organized into four market-leading businesses: Platform Business, Distribution Business, Healthcare Business, and Fintech Business.
For more information about AGBA, please visit www.agba.com
Media and Investor Relations Contact:
YOU ARE LEAVING AGBA.COM
Hyperlinks to other internet sites or resources are accessed and used at your own risk.
The inclusion of hyperlinks to other sites on the Website does not imply any investigation, verification or endorsement by AGBA of the material on such sites. AGBA expressly disclaims any responsibility for the accuracy, contents, availability or omission of information or other websites hyperlink to or found on sites that link to or from the Website.